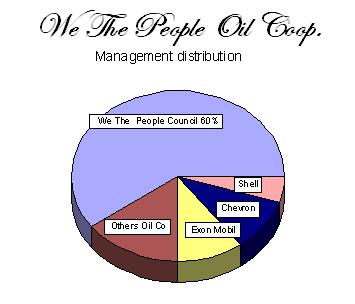 Our Main Goal is to create a
NATIONAL OIL COOPERATIVE.
The Boycott Exxon Mobil CAMPAIGN is only a mean to achieve our main goal. You may know that making a "one day gasoline boycott" does not work, because we all buy more gas the next day.

Boycotting against the richest corporation Exxon Mobil and buying gas from the others gas companies WILL ONLY BRING DOWN THE GIANT EXXON MOBIL to the benefit of the others oil companies.



THE SOLUTION IS TO CREATE A NATIONAL OIL COOPERATIVE!!
Push hard to boycott ExxonMobil and while ExxonMobil goes to bankrupcy, we work hard to incorporate and inviting the other gas stations and companies to form part of the National Oil Coperative at a 40 percent of the net profit. The other 60 percent will be used in the investigation for clean energy.

We The People DO HAVE THE RIGHT TO BENEFIT FROM THE 60% OF THE OIL PROFIT.
Ironically The Big Corporations will benefit from the implementation of Clean energy this is the preservation of our planet! Instead of spending that 60% profits in yachts, mansions limousines and unthinkable and obscene luxuries, let spend it in CLEAN ENERGY.

What is the accountability That super rich Oil corporations have in spending the profits FROM our OIL??? Nothing! Absolutely Zero!, they believe that THE PROFIT FROM OUR OIL is theirs to pocket! I am pretty sure, when We the people boycott Exxon Mobil to bankruptcy, Exxon Mobil will begin to claim that corporations are humans and have the right to profit an do bussiness.

BUT I ASSURE YOU WITH MY LIFE THAT THEY DO NOT HAVE THE RIGHT TO DESTROY OUR PLANET! People's Oil 60% Profits belong to clean energy, no yachts, PERIOD!.






We The People will manage the 60% of the Cooperative through a democratically elected council. Oil companies will share the other 40%


RULES TO ELECT THE NATIONAL COOPERATIVE COUNCIL MEMBERS
1.- It is forbidden to make election campaign ads alone.
2.- Every ad, radio, TV, internet, Mail, etc. must contain equal space for all candidates to express their point view and platform.
3.- Every and all money that candidates rise, will go to a single found to pay for the equally balanced political advertisements.
4.- We The People will elect candidates. We do not allow the money to elect candidates.
5.- No independent Organization could donate, advertise or support a candidate if not conform with this rules.