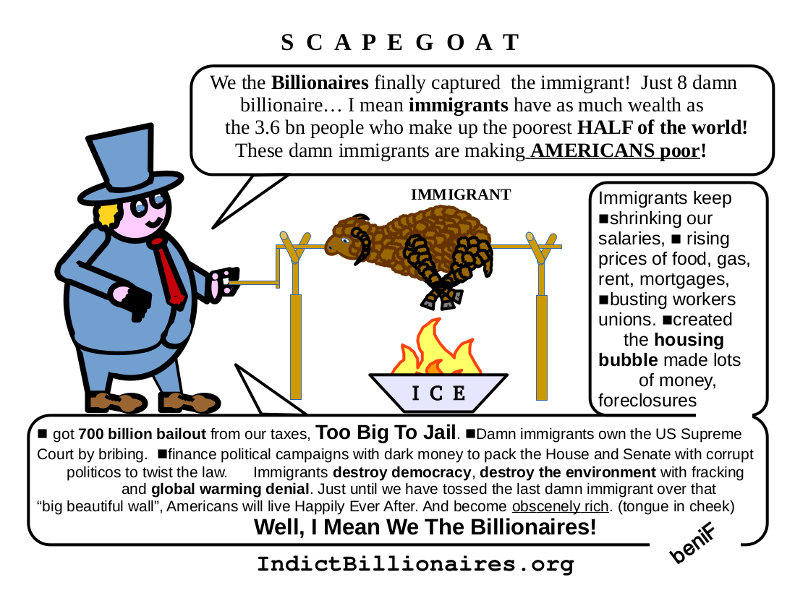 Some people blame immigrants for
"lower our standard of life".
But it is 8 billionaires who own as much wealth as the 3.6 billion people who make up the poorest HALF of the world!
NOT IMMIGRANTS! !

Why to hate immigrants? I hated my boss, some coworkers, friends, I hated my brother, my mom, but we have to live with them because they have many good things, I hated to brush my teeth, "the uncivilized me".
But WAIT A MINUTE!

Who is fanning this immigrant hate and racism? THE MEDIA, and who own the media?
15 BILLIONAIRES! bingo!



We are so distracted with all this hate and racism that we do not see the big electronic signs rising prices of gas, food, rent, while our salaries keep the same.

Billionaires buy elections, bribe politicos, promote and profit from war, DESTROYING DEMOCRACY & ENVIRONMENT.

IndictBillionaires.org
links:
▶8 billionaires own 1/2 the world
▶Terrorist rammed car into protesters, beat his mother
▶15 billionaires own the media
▶(home)